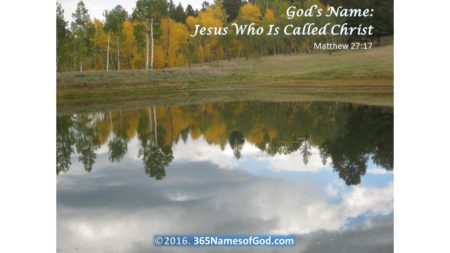 Jesus' Name: Jesus Who Is Called Christ
So when the crowd had gathered, Pilate asked them,
"Which one do you want me to release to you:
Barabbas, or Jesus who is called Christ?"
Matthew 27:17
Excerpted  from The Surprising Joy of Exploring God's Heart
© 2011 Relationship Resources, Inc. All Rights Reserved.
Steps on Your Journey to Know God More Intimately:
Pilate, the Roman governor, used this name. He was using the Jewish terminology, not his own. It seems like he was trying to convince the Jewish leaders not to crucify Jesus.
Remember Christ means the Anointed One and referred to the Messiah.
Pilate doesn't say, "Jesus who is the Christ." He was not sure that Jesus really was the Messiah. What about you? Is there any part of you that wonders if Jesus really is God come down to earth? If so, talk to Him about that today. Ask God to reveal to you if Jesus really is God.
A Prayer for You:
Jesus, I choose to acknowledge You as the Christ, the Messiah, God who came to earth as a man to die for me. Thank You for what You went through because of Your love for me. Reveal more of who You are today, so I can know You and worship You in greater ways.
Would you consider sharing my newest book, Overflowing Hope, with others? Word of mouth is the best way to let people know about my books. You can send them to my website to learn more about the book.
Here is something you can share with others, or you can write it however you want:
Do you struggle with hopelessness, fear, stress or sadness? My friend, Gaylyn Williams, just wrote a new devotional study on hope. I encourage you to get a copy.
Many of life's situations look bleak. The Bible is filled with powerful promises that bring hope into even the darkest circumstances. Discover 31 reminders that will build your confidence in God and His Word. In as little as five minutes a day, you can enhance your intimacy with God as you explore His promises of hope.
Blessings on you as you get to know God better,
Gaylyn Williams, author of God's Design for Community: Proven Relationship Skills for Christians
Available as a book, online course and live training.
You can get Continuing Education Units for the class (CEUs)
© 2016 Relationship Resources, Inc.