Celebrating Ken Williams' Life and Ministry
October 20, 1932 to April 23, 2013
Loving husband, father, grandfather, great-grandfather, friend, trainer, counselor, writer and so much more. Ken Williams passed away on April 23, 2013 and is now rejoicing in God's presence. He was so eager to go "home" and see Jesus. In his last days, he often quoted Scripture, talked about God and Heaven and ministered to each person who called or came to visit.
He was an amazing example to all of us who had the privilege of knowing him. We are thrilled that he is in Heaven without pain or limitations, but we will definitely miss him.
He is survived by his wife of 57 years Bobbie Williams, his daughters Gaylyn, Joy, and Joni, six grandchildren and nine great-grandchildren.
Ken and Bobbie Williams served God with Wycliffe Bible Translators for 55 years, beginning in 1957. He was a Bible translator, counselor, writer, trainer, and more. He was passionate about knowing God, Bible study, Scripture memory, teaching biblical principles to missionaries, and ice cream!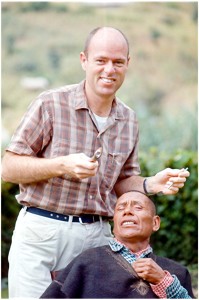 They first served among the Chuj people of Guatemala, completing the translation of the New Testament, as well as founding a Bible Institute, doing literacy work, and starting medical clinics. He even pulled teeth in their front yard!
In the early 1970's Ken began providing care and counseling for cross-cultural workers. Ken earned his Ph.D. in Human Behavior, and he and Bobbie continued in this ministry with Wycliffe for 22 more years, counseling thousands of missionaries worldwide. Ken came to realize that many of the difficult issues addressed in counseling could be avoided if believers received effective training in interpersonal relationships and managing stress. This was accompanied by Ken's deep conviction that healthy, godly relationships are best built and sustained by living out God's Word.
In 1987, Ken began to develop training programs for workers in Christian ministries, especially mission organizations.In 1992, he began a ministry devoted to providing five-day intensive workshops in interpersonal skills.
Today over thirty thousand missionaries, Christian leaders and churches from over eighty nations have participated in the workshop.
In 1999, he co-founded Relationship Resources (with his daughter Gaylyn) empowering people for maximum success in all their relationships. He was the Vice President until his home-going. In 2001, he founded International Training Partners, training missionaries around the world, as well as hundreds of people to facilitate the workshops.
Ken also served in the United States Navy for four years in the Korean War, before he met Bobbie. The following are some of the books Ken recently co-authored with Gaylyn:
I, Gaylyn, was privileged to have a unique relationship with him. Not only was he my father, he was also one of my best friends, my ministry partner, co-author, confidant and so much more. He was the one that Joy, Joni and I (as well as his grandkids and many others) would go to for advice and help on many things. His wisdom, love, humor and caring were amazing. We'll miss you, Dad/Ken.
The Ken Williams Memorial Fund
Relationship Resources has a memorial fund to carry on Ken's work through writing and training. Ken was very involved in Relationship Resources as the Vice President in his last fourteen years of his life. In his last months, he was passionate about getting the word out about our newest book, Never Do Fundraising Again. You can make a tax deductible donation to Relationship Resources to empower us to equip and empower more people in their lives. In the comments box, you can write, "In memory of Ken Williams."
If you wish to make a donation, please use the following mailing address:
Relationship Resources, Inc.
PO Box 62454
Colorado Springs, Colorado 80962
Videos from Ken's Celebration Service
The following are videos from Ken's service. The first two are videos that we played at his service. The last one is the full service.